When it comes to property search, Zoopla is now a common household name, and most buyers will have used it in their hunt for a new home. It's one of the UK's leading online property portals, advertising homes for sale from both high street and online estate agents.
Here at Settled, we use it to market every single home (along with the other main portals). As one of the top 3 portals in the UK, it reaches over 50 million people every month and is, therefore, an amazing opportunity for sellers who want to get their home in front of the right buyers. If you're looking to sell, you can find out more about selling through Settled here.
Contents
Getting your home on Zoopla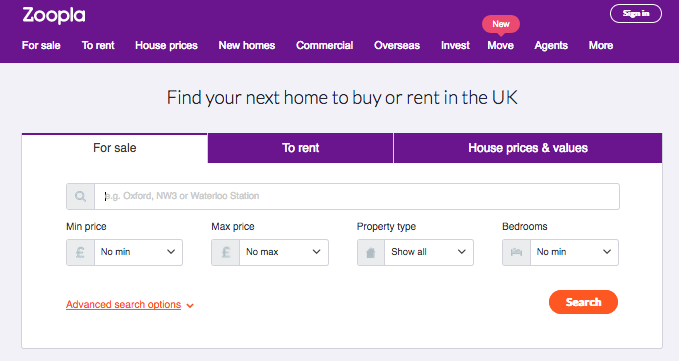 Fig. 1 Zoopla website homepage
To get access to the huge audience that Zoopla brings to the table, sellers need to go through a third-party, such as Settled. This is standard practice across almost all of the UK property portals. By using a company like Settled, you know that only the most interested buyers will be able to contact you with viewing requests and that they've been fully verified.
How do I sell my house privately on Zoopla?
If you're selling your home privately, you lose access to listing opportunities on the property portals. Alternative advertising methods used by private sellers are more grassroots, such as social media, classifieds or word-of-mouth. Selling privately without the support of the portals is totally possible, but it takes a certain kind seller who has the market knowledge and time available to manage these promotional aspects. The amount of effort and the lost exposure are well-worth considering before committing to a private sale. If you're looking for transparency and control without missing out on advertising opportunities, selling tools and expert support, Settled may just be the right solution for you.
How does Zoopla compare to Rightmove & PrimeLocation?


Fig. 2 The UK's top property portals
Out of the three major portals (the other two being PrimeLocation and Rightmove), Zoopla is the second largest. Rightmove is the clear leader with around 127 million visits each month, Zoopla is in second place with 50 million and PrimeLocation in third with 5 million(R).
Zoopla's primary audience is based in London with a strong following in this region, but the website is used right across the country. It has over 927,000 properties in comparison to Rightmove's 1.1 million but still leads against PrimeLocation's 532,000(R).
Even though it has smaller reach and stock than Rightmove, Zoopla is still a key channel for advertising your home, as buyers will be doing their research in multiple places. All homes advertised with Settled also benefit from listing on Zoopla, Rightmove, PrimeLocation and hundreds of other top UK property sites.
How do buyers book a viewing through Zoopla?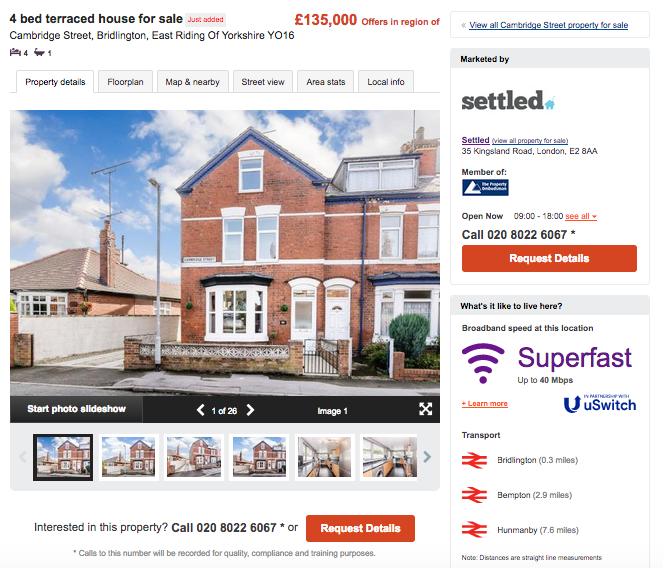 Fig. 3 Listings on Zoopla
If a buyer finds your ad and decides they'd like to view your home, they can either call the business it's listed with or email them directly through the site. Buyers won't be able to contact you directly at this point. The agent's contact details are available on every listing and are visible once the buyer has clicked through to the actual ad.
If the property is listed through a high street estate agent, that agent will try to organise a viewing time that works for the seller and the buyer by giving you both a call. Here at Settled, we've totally simplified this communication process by allowing each registered buyer to request viewing slots directly through our online hub. They can select multiple viewing times, which are then sent on to you. You can either accept, reject or send alternative timings. Once you and the potential buyer have both agreed on a date and time, the viewing slot is saved. The Settled hub is accessible 24/7, and by streamlining the process so that a viewing can be booked at the click of a button, things can happen much faster.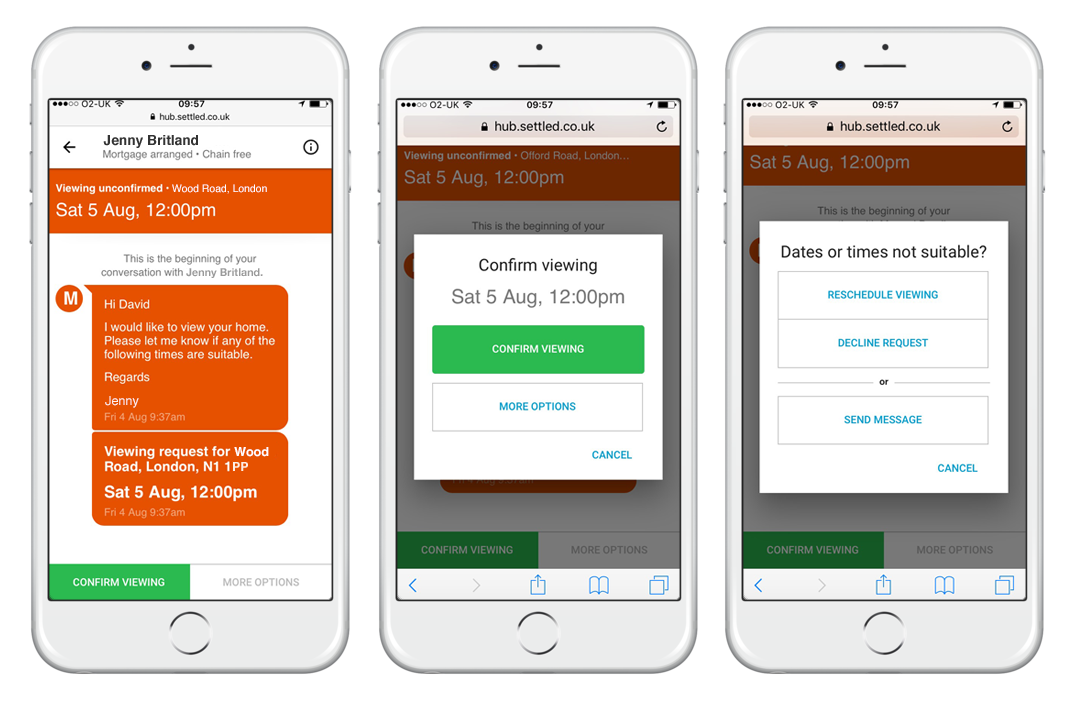 Fig. 4 Messaging and viewing management in the Settled hub
Buyers can only contact you or book viewings once they've registered with Settled. Upon registration, they provide their personal details along with information on their buying position, so that you can be sure exactly who you're meeting and that they're serious about making a purchase. This is one of the ways that we're helping to improve completion rates and keep the journey to completion free from letdowns.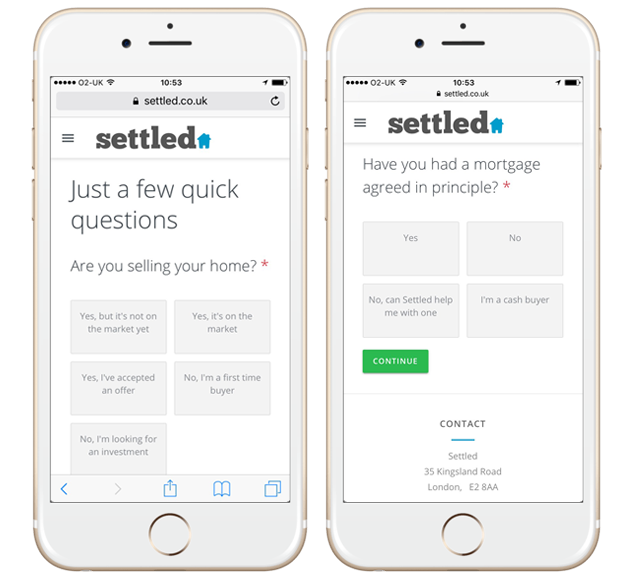 Fig. 5 Settled's buyer verification
Zoopla sold prices feature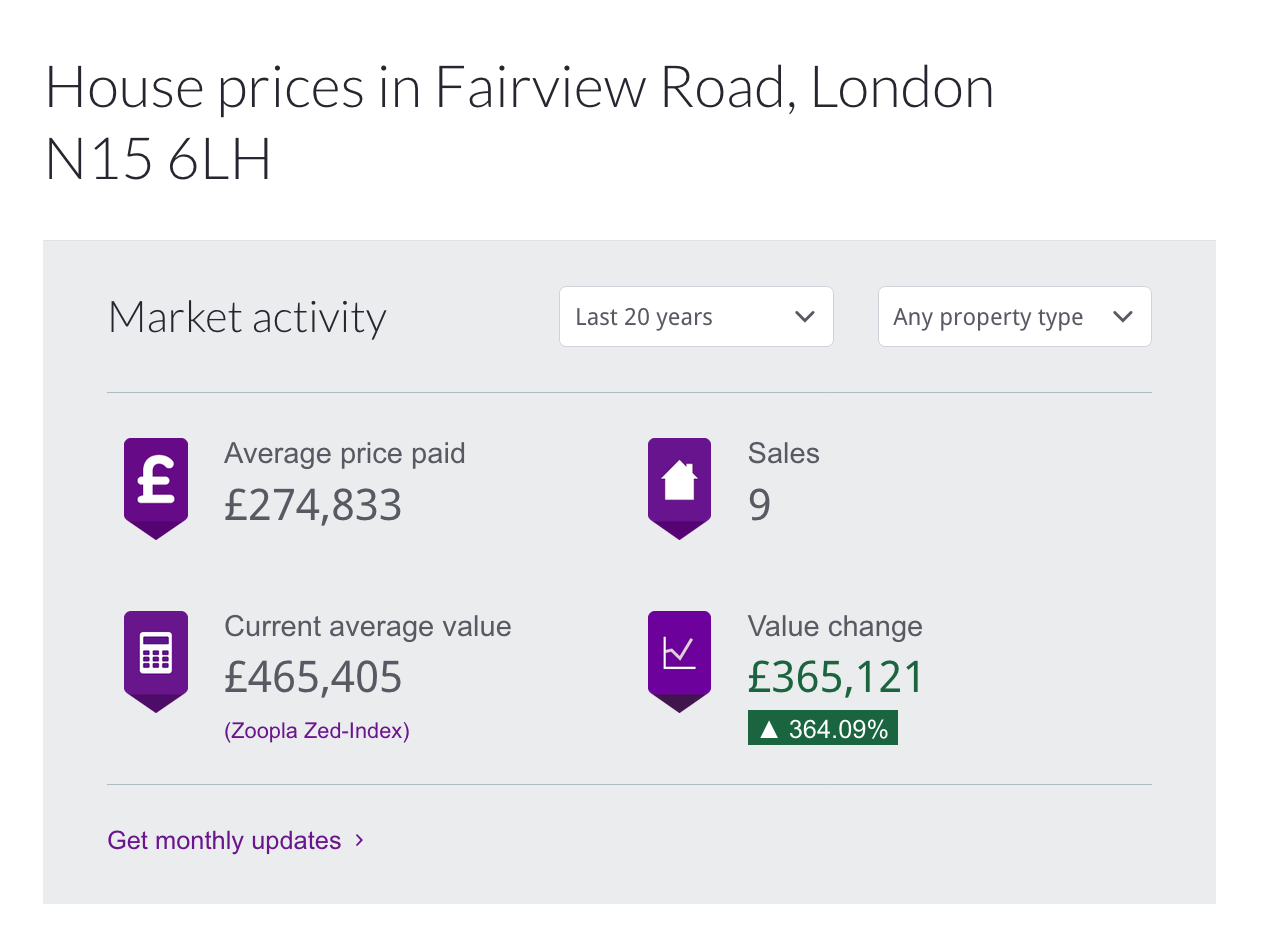 Fig. 6 Zoopla sold prices
One of Zoopla's most popular offerings is its 'sold prices' feature. These prices represent the values for which properties have been sold in the UK. Zoopla lets you search in particular areas down to postcode level, identifying properties that have recently been sold and how much for. These details are available in the public domain for anyone to search for and find as they choose.
When carrying out research to decide on your home's asking price, this feature can help you see what other properties on your street or in the area have sold for. Taking a look at the current going rate and how that has changed over the years will be a useful aid in figuring out what a fair and competitive asking price could be. The more recent the sale price, the more relevant it will be to you today. The older the sale price you're shown, the more likely it is that the value has changed in the interim, but these past values can still help you by providing an indication of the value growth percentage over the years. This is useful because it shows you when and by how much prices have gone up across the board and how that affects the value of your home now.
If you want to do some more research, our own instant valuation tool pulls data from Zoopla and other trusted sources to create a picture of what a fair asking price for your home could be.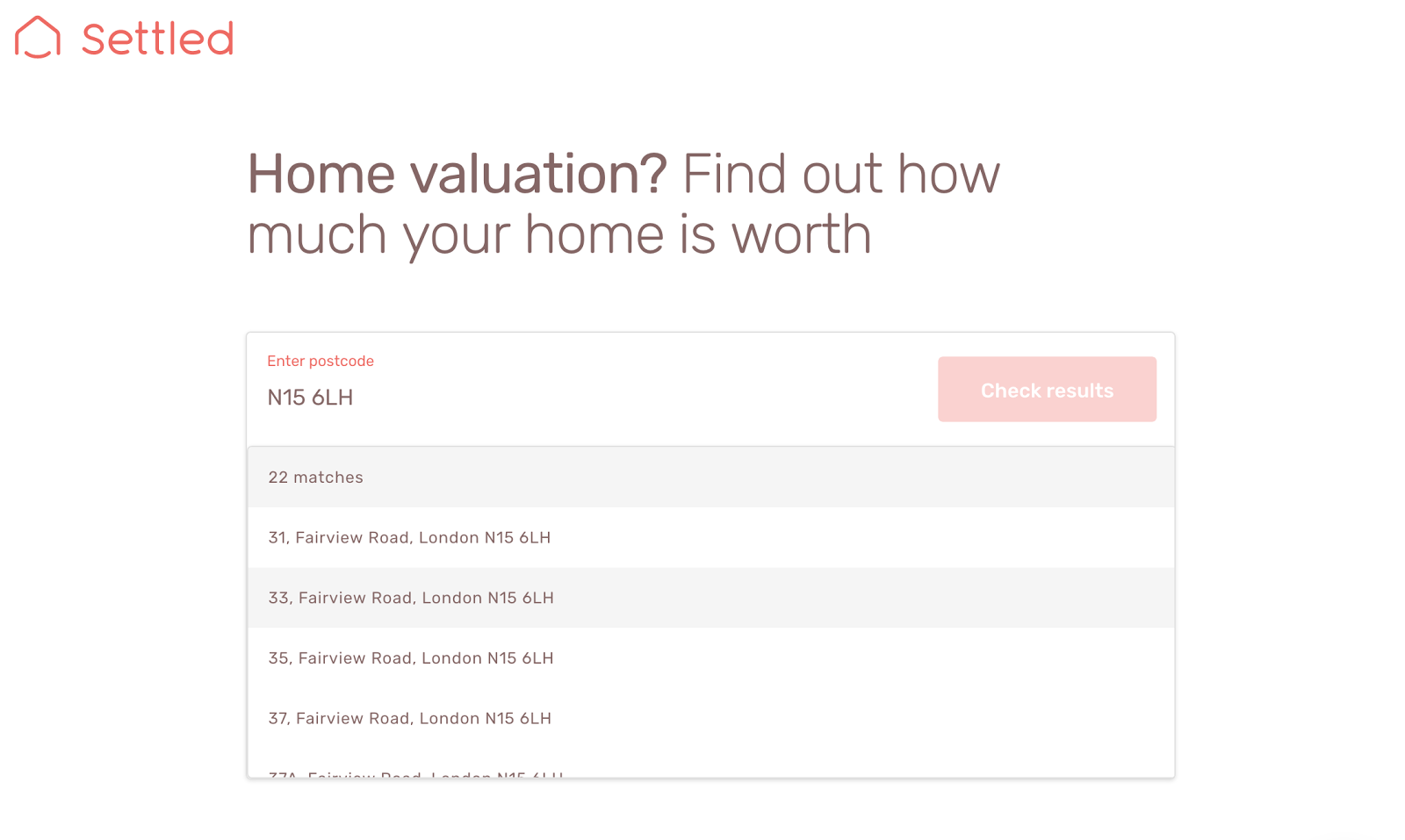 Fig. 7 Settled's instant online valuation tool
Innovative features
In addition to sold prices, there are many useful tools that help buyers narrow down their search so that it's easier for them to find their perfect new home. These are the tools that buyers might be using to come across your own home, so we've taken a look at how they help in practice.
SmartMaps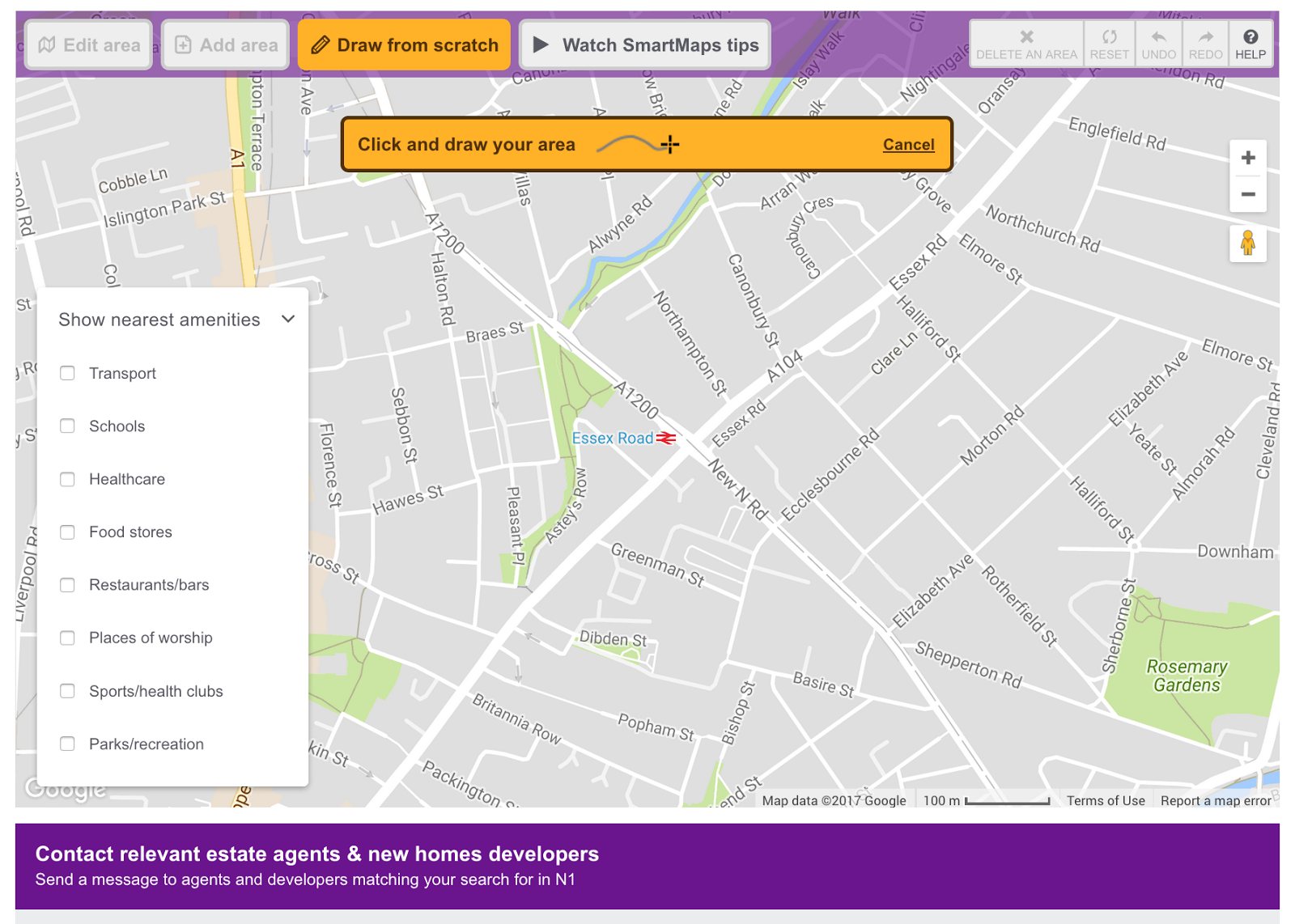 Fig. 8 SmartMaps feature
Buyers can search for homes by town, district or postcode, but the SmartMaps feature lets them draw their own custom boundaries. This extra freedom allows them to include certain locations around their chosen area and hone in on the perfect property.
Travel time search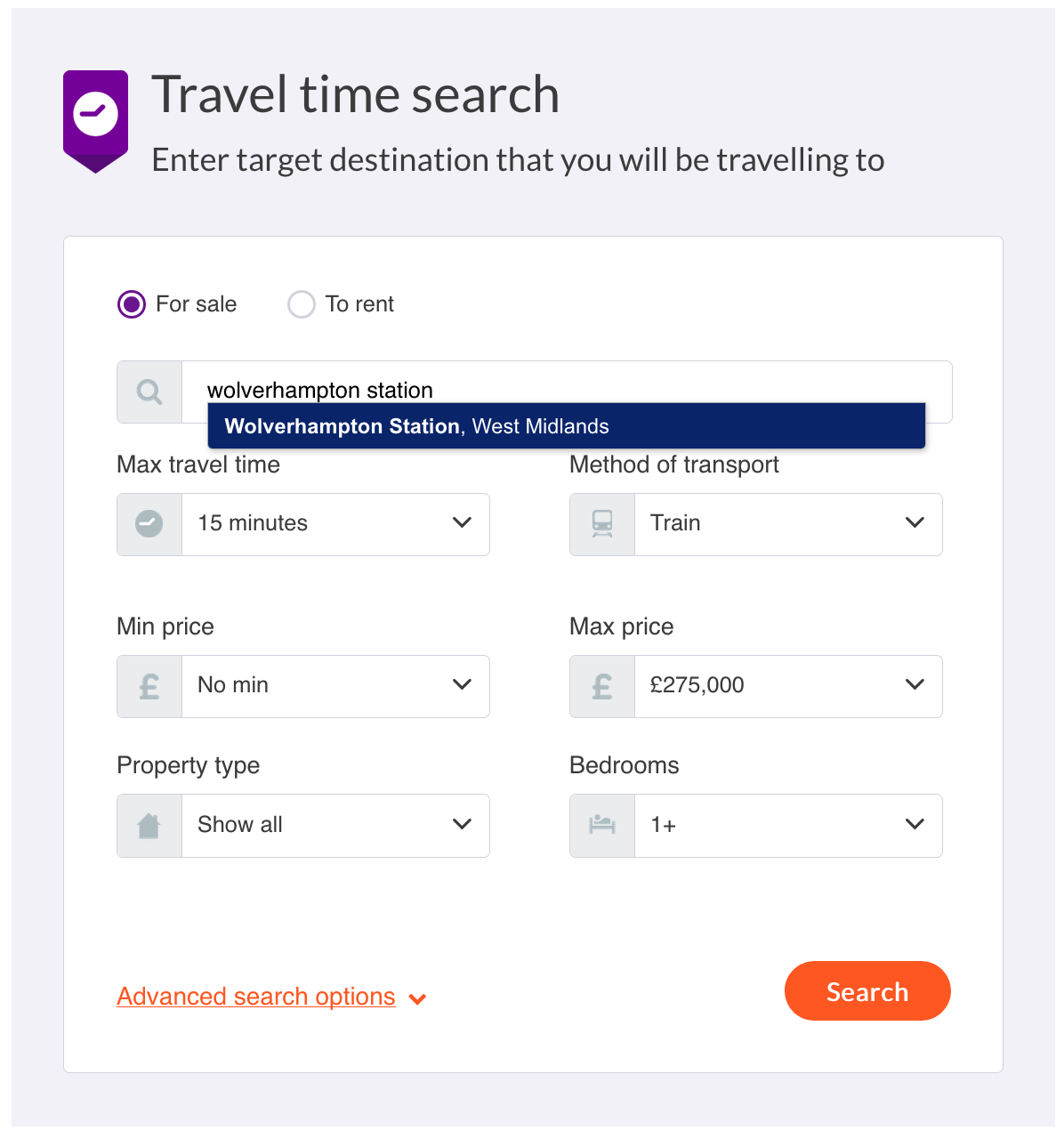 Fig. 9 Travel time search feature
For anyone who commutes into work and wants to only view properties that give them the shortest travel time, the Travel time search tool allows them to do just that. By specifying a destination and the maximum time they're willing to travel, buyers are provided with a list of suitable homes. They can search by station, area, street or even building, which makes this tool useful not just for commuters, but parents who want to walk their children to school, people who want to live near certain amenities and so on.
Transport options include:
MyEstimate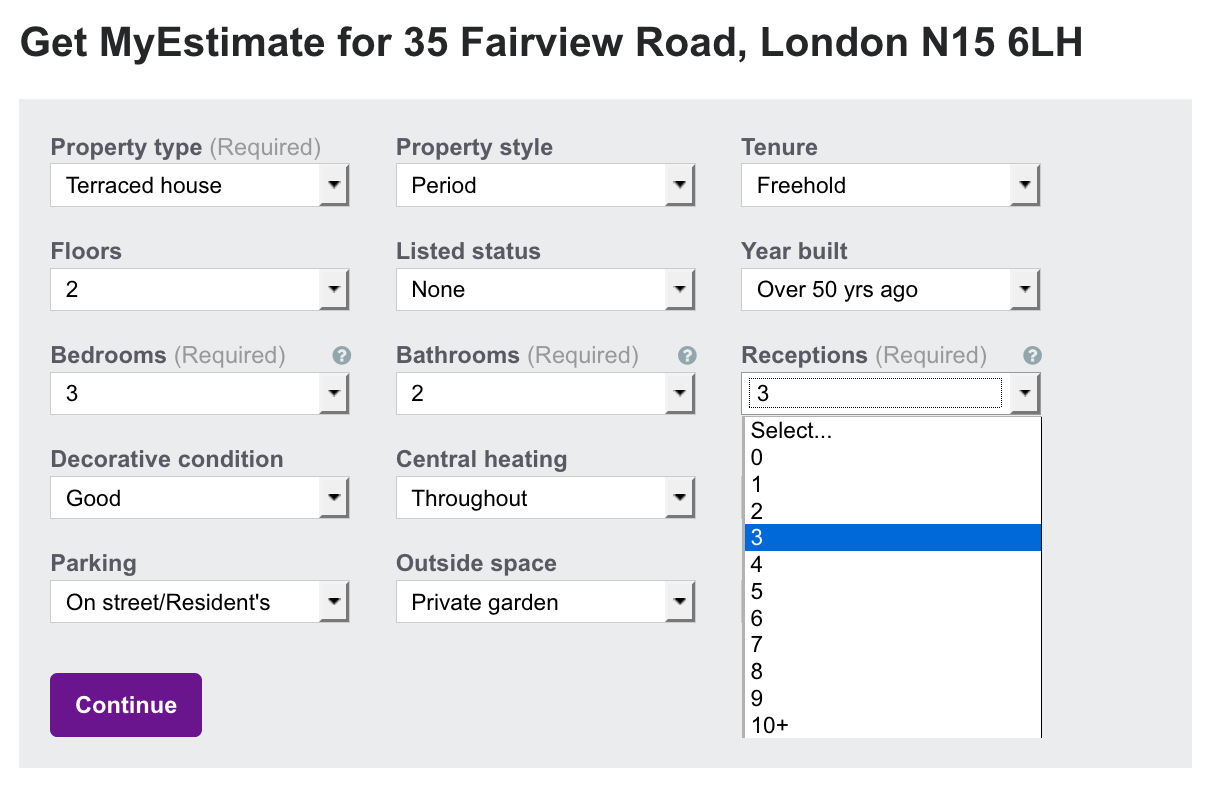 Fig. 10 MyEstimate feature
The MyEstimate feature is actually for sellers like yourself, but buyers might use it if they want to take a deeper look into the value of a specific property.
When you're starting out on your home selling journey, one of the first things your home needs is an asking price. More and more sites are providing these online valuations because actually, all the information you could ever need to work out your home's monetary worth is available on the web. The MyEstimate feature allows you to input your address and details of the property so that Zoopla can work out an estimated value. The algorithm that it uses analyses "millions of data points relating to property sales and home characteristics in local geographic areas"(R).
Heatmap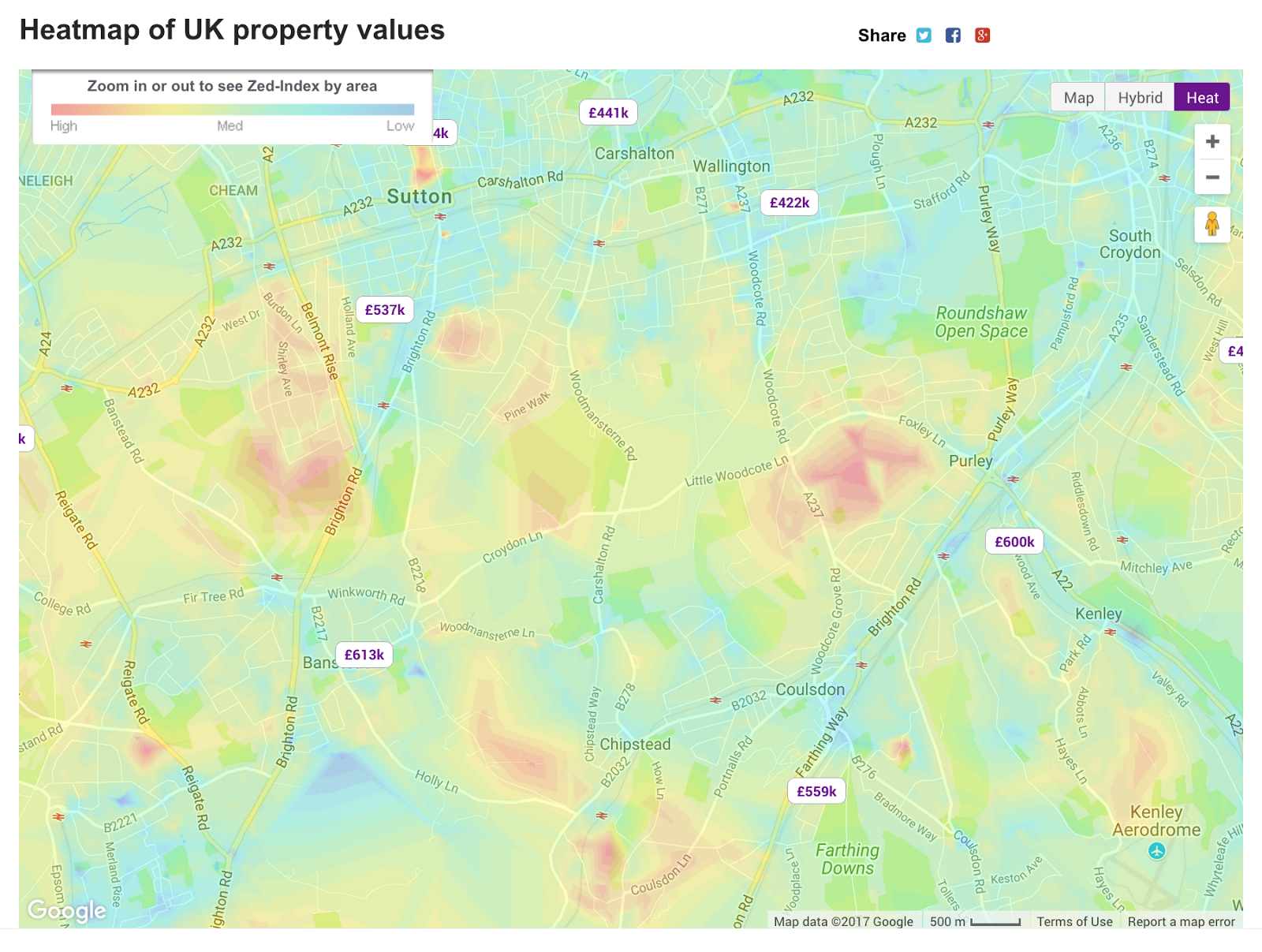 Fig. 11 Heatmap feature
Cost is important to every buyer, and if they want to more easily visualise how property values differ from area to area, the Heatmap feature is extremely useful. This provides a UK-wide representation of prices, with red representing the highest, and blue the lowest. For buyers looking to invest in somewhere mid-priced but clearly on the tipping point of becoming highly desirable, it's an invaluable tool. For any sellers living in up-and-coming areas, it'll certainly put your home on the radar. It also provides a means for buyers with a lower budget to see how realistic it would be to live in certain areas of the country.
AskMe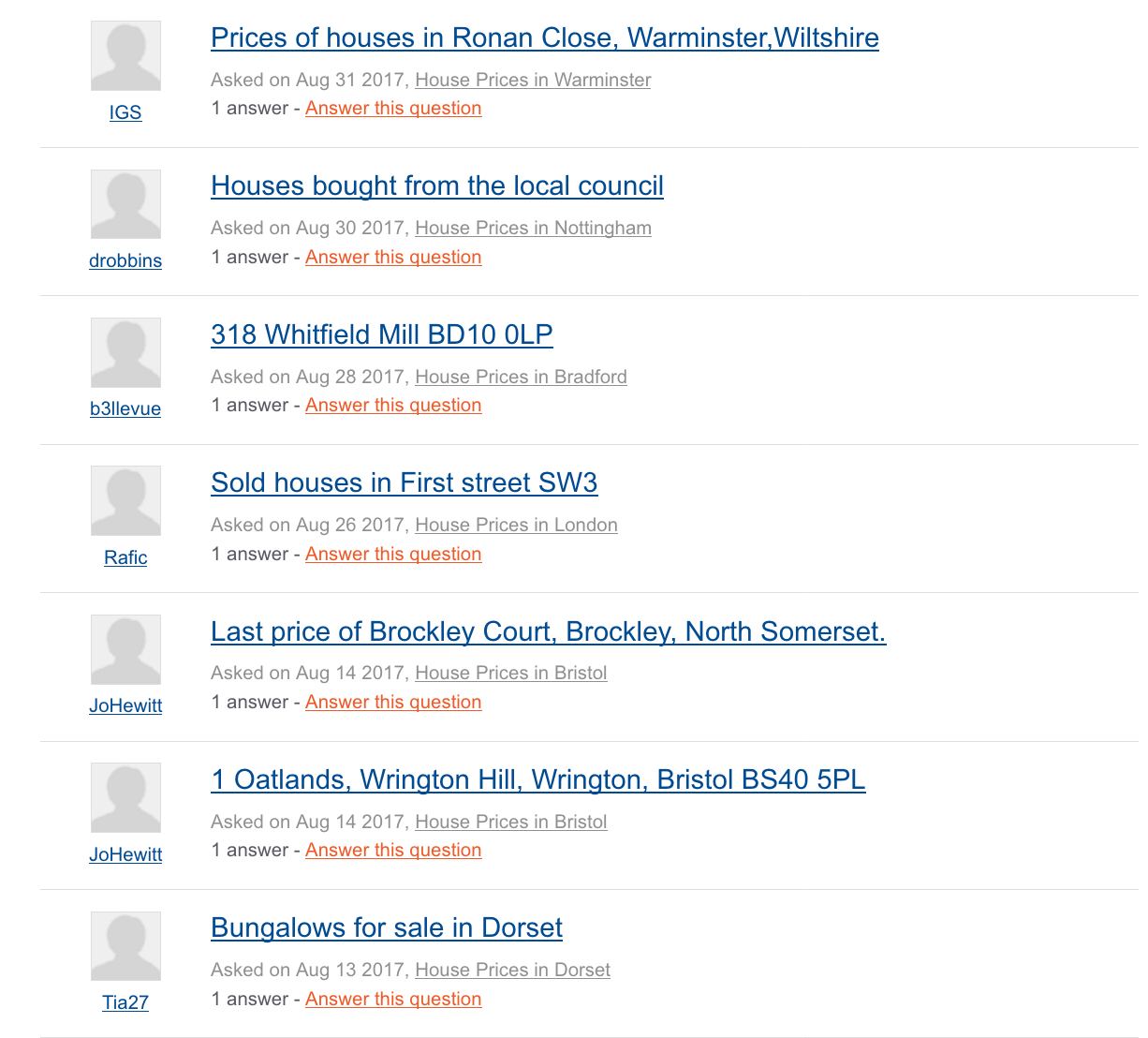 Fig. 12 Threads on the AskMe forum
Sometimes there's nothing better than real human advice. When it comes to homes, people know best, which is why the AskMe feature is so popular. AskMe, is a forum for buyers, sellers, landlords and property investors to post their questions and get expert advice from the Zoopla community. Buyers frequently ask questions about what it's like to live in a certain area, what the price of specific properties are or even what homes are available in specific locations. Experts will then direct them to the correct information, aiding their search for the perfect home.
Running costs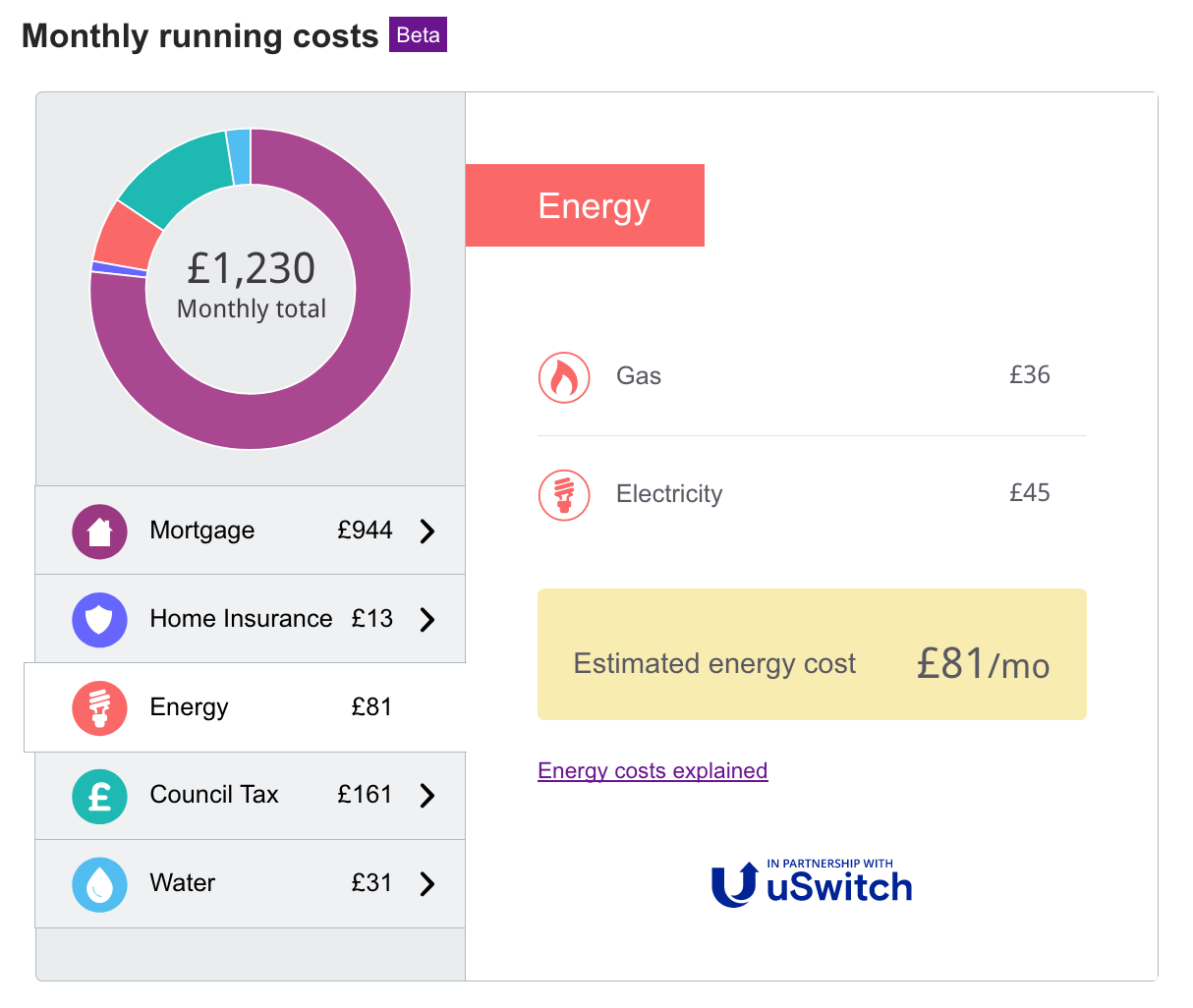 Fig. 13 Montly running costs feature
In partnership with uSwitch, the Running Costs feature is available at the bottom of every property ad, showing the viewer an estimated breakdown of the costs of living in and running that particular building. These estimates are worked out through various external data sources from local authorities, businesses and the government. This kind of deeper insight helps buyers feel more in control when carrying out their research, as it deals with some of the unknowns that are felt when moving. By showing these figures up front, buyers can compare them with their budget and come to an informed decision about the affordability of a new home.
Company information
The Zoopla Property Group was founded in 2007 and the website was launched in January 2008 by Alex Chesterman and Simon Kain, respectively the founder and CTO of LoveFilm. Since then, it's risen to be the second largest property portal in the UK, acquiring other online sites such as PrimeLocation.com (which still operates under its own name), Globrix.com and Findaproperty.com, to name a few.
In summary
As one of the best places to advertise your home for sale in the UK, Settled promotes every single home listed on our own site through Zoopla and the other top property portals. The Internet is an amazing opportunity for sellers to have their home found by buyers who are looking specifically for what your home offers, and something every seller should have access to. For more information about how Settled works, email us at hello@settled.co.uk or give us call on 0330 088 1422. We'd love to hear from you.
Links & (R)esources